Why You Should Trust Your VoIP Connectivity to Patton SmartNode Gateways, Routers, and Session Border Controllers

Patton Electronics provides network access and connectivity products such as gateways, routers, and session border controllers that support just about every telephony interface so that you can take advantage of VoIP in a variety of ways that suit your needs or existing infrastructure.
Patton SmartNode Gateways
Patton SmartNode gateways and routers integrates IP and TDM communications so that you can use voice-over-IP.
Common applications include:
Connecting traditional phones and PBX to a VoIP service provider (SIP Trunking)
Migrating a legacy PBX to an IP PBX
Gateway to the PSTN for an IP PBX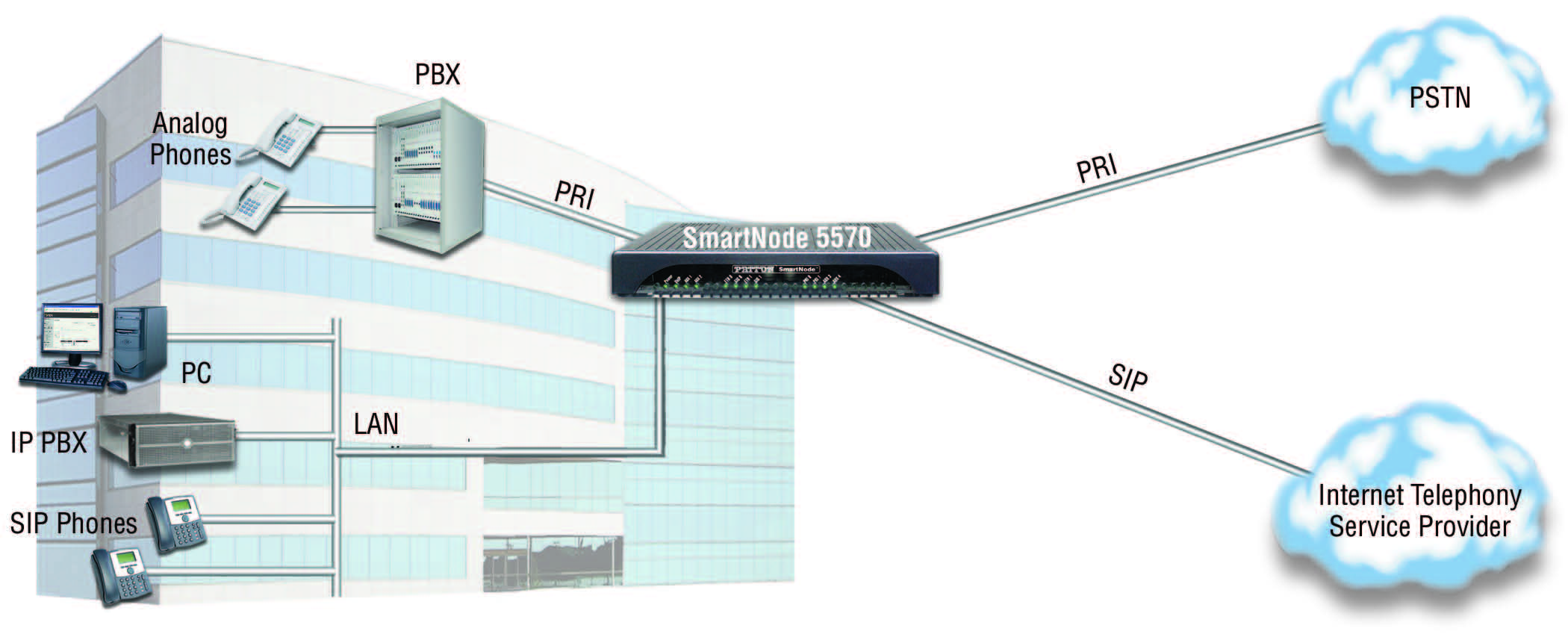 SIP Trunks Can Still Use PSTN Connectivity for Local Calls and Fallback
Patton helps you connect to VoIP but their line of SmartNode devices offer helpful PSTN features such as PSTN connectivity for local calls.
SIP trunks are great for saving money, powerful features, and more. But if your business has a high volume of local calls, continuing to utilize the PSTN with your SmartNode gateway may provide some benefits.
And if your business has multiple locations in different areas of the country, you can link Patton FXO gateways at each location via the Internet allowing you to take advantage of low cost, local PSTN calling in each region.
Additionally, for any business that relies on SIP trunking for telephony, SmartNode VoIP gateways can provide PSTN fallback in the event of an Internet outage.
Call centers live and die with voice connectivity. They can add a Patton SN4300 VoIP Gateway to their server closet to access the PSTN for failover, local calls, or just a gradual migration to VoIP and not have to worry about downtime.
Why trust Patton?
Unlike their competitors, Patton's gateways include FREE post sales technical support and configuration help, including a 1 year warranty.
Patton's SmartNode products offer gateway and router solutions with just about every telephony interface: PRI, BRI, T1, E1, etc so they will work with your network!
SmartNode supports SIP, H.323, and MGCP VoIP technologies.
SmartNode is a mature product, it has stood the test of time and is tested and deployed in hundreds of real-world networks.
When using 3CX, Patton works seamlessly as your gateway to the PSTN. Simply choose your Patton Gateway from the 3CX drop down menu.
Free Support and Upgrades
Patton offers the best customer support in the industry and it's free.
You can call Patton before or after you purchase a SmartNode device and they will answer your questions free of charge.
They also offer guaranteed response and remedy times plus as 24/7 support, for an additional fee.
And if you're in need of professional services, Patton can help you with system design, installation, configuration and more.
All Patton products have a standard 1 year warranty. Patton Enhanced Warranties are also available if your business needs advanced replacement protection should the device fail – If your unit goes down, your replacement will be shipped next-day priority at no cost to you.
Click here to learn more about Patton SmartNode VoIP Gateways or, call us at 305-629-6666 for more information